About Karen Hammond
---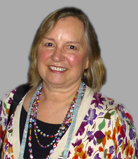 A twelfth-generation New Englander, freelance writer Karen Hammond grew up near Boston and went to college in New Hampshire. Although she enjoyed living and traveling in Europe for several years, she now lives and writes in a tiny fishing village on an island off the coast of Maine. A freelance writer and editor throughout her adult life, her work appears in national magazines and newspapers. She is the author of the popular guidebook Backroads & Byways of New England: Drives, Day Trips & Weekend Excursions (Countryman Press). Karen writes about travel, food, wine, women's health, parenting, and etiquette—interests that may seem diverse but often converge in surprising ways.


Backroads & Byways of New England: Drives, Day Trips & Weekend Excursions

by: Karen T. Hammond
Publications
---
Editors, please email Karen for additional information or to discuss your publication needs
Magazines
American Lawyer, American Profile, Family Circle, Runner's World, The Writer, Weight Watchers, Wine Enthusiast, Wine Spectator, Woman's Day, Yoga Journal, and many others.
Newspapers
Arkansas Democrat-Gazette, Atlanta Journal-Constitution, Boston Globe, Christian Science Monitor, Columbus Dispatch, Fort Worth Star-Telegram, Maine Sunday Telegram, Miami Herald, Pittsburgh Post-Gazette, Vancouver Sun, and many others.
Literary Magazines and Anthologies
Poetry and essays published in literary magazines including The Montserrat Review and Perceptions and in anthologies.
Books
Backroads & Byways of New England: Drives, Day Trips & Weekend Excursions (Countryman Press)
From Vision to Excellence: A Popular History of Binghamton University (Donning)
Annual contributor to Experience Bermuda
Profile writer Greater Portland Visions and St. Louis Visions (Cityscapes)
Contributor to several other books
---
Links to Stories